Technical
sound systems a sound design
After many years of close cooperation with Canada's leading brand of professional speakers Adamson Systems Engineering, belonging to the world's top producers of touring systems, we are among the first European companies have met the demanding criteria for inclusion in the official distribution network.
We have the latest 15-inch line array system technology Co. Linear module and modern Autolock rigging ADAMSON E15 ENERGIA (24) which combined with the most efficient subwoofers E219 in its class on the market, would be considered to be the most powerful line-array system in the Czech, perhaps even the European market. This system also supplied the Kryštof 2017 stadium concert for 40,000 people.
We use 12-inch version of the ADAMSON ENERGIA E12 (24) and the compact S10 (24) system outside this high-capacity system.  All amplifiers are handling LABGRUPPEN PLM integrated processing LAKE, controlled and checked-in also using the protocol DANTE.
Outside the latest systems to our portfolio remains in its original SPEKTRIX (24) and a powerful long-throw system Y10 with extra strong subwoofers T21. With a broad portfolio, we are able through its own resources to dub the largest domestic buildings, including 02 arena and open air festivals in the highest quality with perfect coverage. Every implementation we own training and create detailed sound design by certified software Blueprint. The final calibration and system settings care factory certified engineers with measurement products SMAART.
Because the top PA and amplifier system would not be perfect without a top-of-the-line desk, we decided to have best available FOH consoles - AVID S6L (32D / 192 engine) and YAMAHA PM7 rivage. As next FOH and MON consoles we use digital console Yamaha CL5 and M7CL48-ES and digital consoles legendary producer Midas (PRO3, PRO6). In addition to these basic elements, we have standard accessories such as microphones (DPA, Bayer Dynamic, Shure, Audix, Sennheiser), monitors (24x 8x Adamson Adamson M15 and M12) and Pioneer DJ equipment.
ADAMSON system used by world artists such as David Guetta, Linkin Park, One Direction, Ricky Martin, Beyonce, Imagine Dragons and can be found in the portfolio of the largest European companies - eg. PRG. Domestically, our sound long-term use eg. Kryštof, Horkýže Slíže, festivals České Hrady, Trnkobraní, Majáles, Rock for People and many others. 
ground support, roofs
In 2014, we expanded our facilities by GS HEAVY-DUTY & SUPER-BEAM trussing, thanks to which we now possess one of the largest and safest roofs in the country. Basic dimension roofing offers up to 13 m height GS feet, a covered area of 22 m x 16 m / 19 m x 16 m / 16 m x 12 m / 12 x 12 meters with a tons capacity and upgradeable PA and video wings up to 45 meters visible width. Anchoring and mooring use only the designated elements (steel ropes, chains). The enclosures have a valid static report, and of course we have a complete system of podiums - Nivtec flexibel.
For smaller events we own outdoor roofs with original designs and connecting parts ALUR SOLUTIONS in the dimension of 13 meters x 10 meters with a height of 9 m tower, meets EU requirements for temporary buildings with all necessary decoupling and anchors. The enclosures can be connected pantries 6x4m, PA wings further, thereby increasing the possible scale sound system.
Our experienced team of rigging is of course prepared to check events in the halls hanging. We have detailed knowledge, experience and DWG drawings of most home halls with this option, whether it be the Board Karlin, O2 arena or hall  DRFG and many others, including Frydek-Mistek Polaris hall, where we take care of the house rigging. Our technicians prepare the rigging plot including detailed dimensions, load individual points, statics and ensure that they are smooth and mostly safe installation.
Indoors without hanging from our material build ground support various sizes and types. For smaller constuctions  (approx 12x12)  we use standard quad profiles and fort the larger profiles Folding or trussing HD or Super beam in silver and black. All components are certified by reputable manufacturers and meet EU safety requirements. When lifting, use engines CHAINMASTER or CM 1-2 ton payload capacity and an original control system.
lights, video and design
We dispose with professional lights and special lighting effects, from which we will prepare an original scene for your project. Our equipment is suitable for touring, festivals, concerts and events from small clubs to large halls and decorative lighting of spaces or TV recordings and broadcasts.
Mostly we use products from the Czech, but globally known brand Robe, which complement of equipment ARRI, or SHOWTEC and STUDIO DUE. We care about the quality and origin of other branded equipment (switchgear, splitters, dimmers, electrical wiring, connections DMX). Thanks to the ever-increasing fleet can check in several events at once. To control we mostly use CHAMSYS consoles  (MQ70, MQ100, MQ500 with different variants of wings) .
In light of our fleet is the most modern equipment, including the most powerful spot lights Robe BMFL (32),  novelty among the current LED Wash Robe Spiider (32) with Robe Robin 600 (20) and favorized Robe Pointe (24) with stronger brothers Robe MegaPointe. We dispose with RoboSpot follow system too. 
We also own 150 square meters SMD LED screen with a resolution of 6 mm. The screen can be assembled into various shapes, and divided into several areas. The LED screen to provide a comprehensive system, if necessary CAMERA SYSTEM both standard and robotic.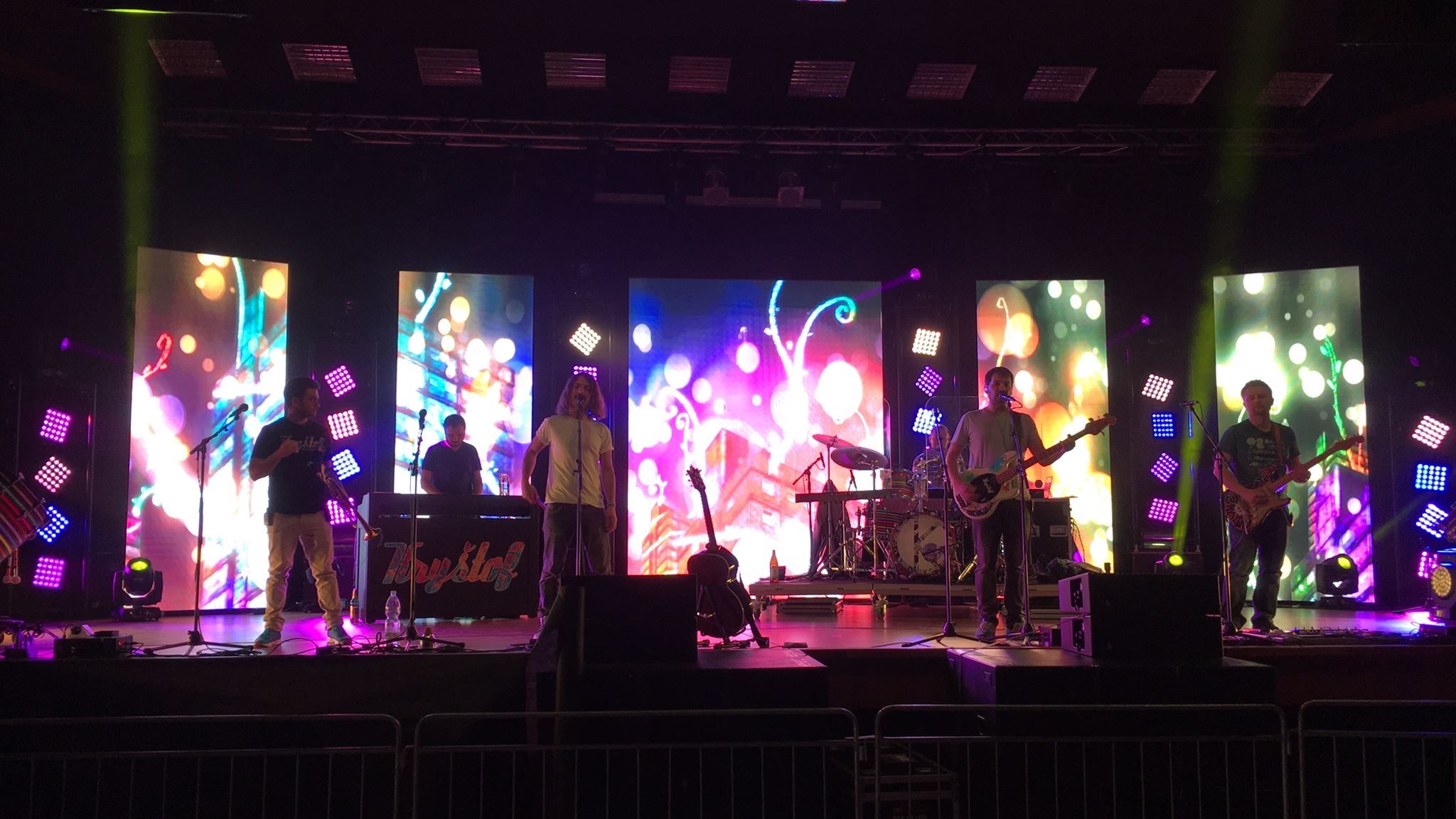 stage and barriers
We have 250 pieces of  Nivtec Flexibel plattform (2x1m standard module, a selection of other special parts, certified load capacity of 750 kg / m2) for the construction stage of various sizes and heights (20 cm - 200 cm). As an accessory automatically deliver bracing, stairs, railings and cover pages. To separate the visitors from the podium offer 40 meters of antipersonnel barriers Mojo type.