Monster Meeting 2021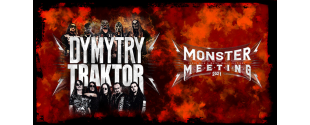 Because all the concerts of this magnificent rock metal show failed to play last year, some of them were moved to this year.
Together with Dymytry and Traktor, we came up with a unique project at a time when it made sense to organize concerts for thousands of fans rather than worries. A continuous joint show of two performers with a special stage, a spectacular set, lighting and pyro effects ... simply everything that belongs to a proper rock metal show.

This created a unique three-hour program not only with the biggest hits, but also with two new joint songs. There were mutual guests, moments when all the artists from both bands played on stage at once. All underlined by a carefully prepared effect show and specially prepared projections. This made the Monster Meeting the most visited and also the most technically demanding tour last year. There were no major and more frequent events in the summer full of changing measures and government restrictions in the fight against Covid19.

Although we tried to adapt to everything, not all the planned concerts took place and not all the way we would like. And so it was clear that the Monster Meeting would return in 2021. In the end, the number of stops ended at 17, some took place in quick succession, which was not the easiest to technically demanding. But everything went well in the July and August parts, and the Monster Meeting thus aspires to tour the year again.
PA ADAMSON: main+fills E15+S10, E219
AMPS Lab.gruppen PLM, Lake Processing LM44, Audinate dante
FOH: Yamaha Commercial Audio CL5
LIGHTS ROBE lighting: Spiider, MegaPointe, RoboSpot
FOH ChamSys: MQ500 stadium
RIGGING Truss Aluminium Factory
Photo and video