Michal David online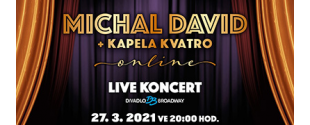 Another of our performers will delight their fans with a streamed performance. This time focusing on the most believable concert experience full of hits that never get old.
In a beautiful setting of the Broadway Theater, we built the most realistic concert stage and broadcast studio for a show performed by Michal David full of well-known songs and also for some long-nonplayed songs. Just for his fans. Once again, we used our mobile streaming studio with backed up media servers and transmission, with real editing and multitrack recording, in addition to an realtime connection to Slovak TV.
In this case, we did not deal with any form of interaction and additional content. We focused on high-quality live video transmission from six cameras and with an detail on high quality sound. This, combined with a playlist based on well known hits, but with many surprises that are not usually included at concerts, and Michal's professional speech, created another event of this special time that we will actually be happy to remember!
The whole concert took place on a specially built stage from Robe lights (Spiider, Pointe, CycBar) supplemented by the LED screens. The sound production was facilitated by the fact that Michal David has been playing his concerts live with the great backing band Kvatro for several years. And so the resulting sound of the Yamaha CL5 from the hands of Jirka Polanský was worth it. The basis for this statement may be the fact that the sound recording without post-production was used by the czech Radio Impuls.
Photo and video