Srdcebeat tour 2015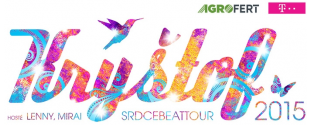 Our technical and production cooperation with leading Czech band Kryštof culminated to a tour of the five largest domestic halls with the last album Srdcebeat
Week of rehersals and the first two concerts in CEZ Arena in Ostrava began largest indoor tour, in which we participated. Eight sold-out concerts for more than 90,000 spectators, including 02 twin arena took place in our entire production, organisation and technical support.
Annual preparation, for which intensively participated in the band Kryštof and especially Richard Krajčo, was transformed into a spectacular show on the big stage with a special enclosure, more than 300 lights, six independent LED screens and other special effects changing environment halls to dreamland including the Dutch flying system
Technical pillars were BMFL Robe Robin 600 Eurolite COB blinders and over a hundred beam spots. PA system was formed by a line array system Adamson Energia E12 (Prague 02 Arena in version E15) with the newest Adamson E219 bass boxes, supported by Adamson and Adamson Y10 Spektrix for outfills, downfills and frontfills. FOH and MON consoles Yamaha CL5 to amplifier Lab Gruppen PLM communicated via the Dante protocol. Rigging system was suspended on 74 engines.
http://www.ireport.cz/clanky/recenze/live-krystof-v-praze-vysnenokrajina-existuje-a-strci-do-kapsy-i-svetove-hvezdy
http://www.ireport.cz/clanky/recenze/live-krystof-v-praze-vysnenokrajina-existuje-a-strci-do-kapsy-i-svetove-hvezdy
Photo and video